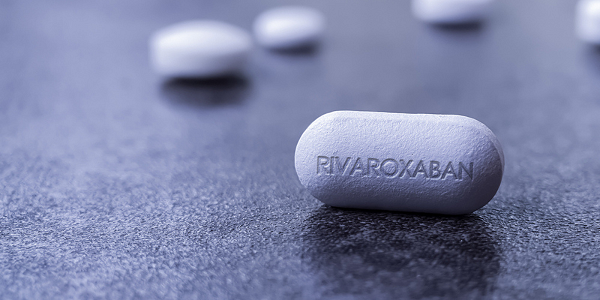 Rivaroxaban is an oral anticoagulant which helps prevent the formation of harmful blood clots in the legs, lungs, brain, and heart. It makes blood flow through the veins more efficiently, which means that blood will be less likely to make a dangerous blood clot.
Blood clots may occur in patients with:
an irregular heartbeat (atrial fibrillation)
peripheral arterial disease
recently had surgery to replace a hip or knee joint
coronary heart disease
unstable angina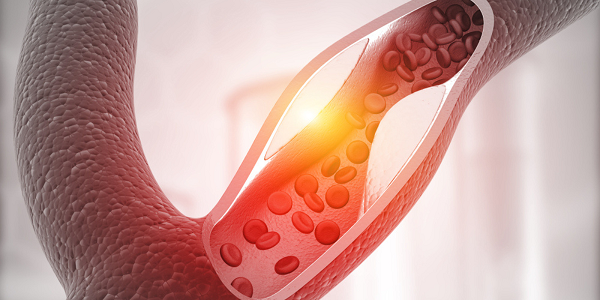 Treatment with Rivaroxaban
Rivaroxaban is used to treat people with a health problem caused by a blood clot due to a stroke, a heart attack, a blood clot in the leg or Deep Vein Thrombosis (DVT) and a clot in the lungs or Pulmonary Embolism.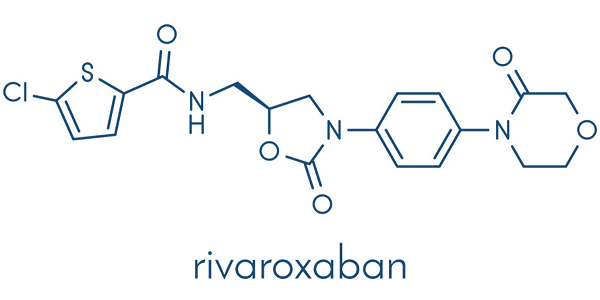 Administration
Rivaroxaban should be administered as the following:
It should be taken under medical prescription only.
Depending on the doctor's prescription, the dosage maybe once or twice a day.
For some conditions, Rivaroxaban should be taken with food after a meal.
In surgery or dental work, the surgeon or dentist should be informed ahead of time that the medication is used.
Do not stop taking medicine suddenly. It may lead to an attack or stroke.
On missing a dose, skip the missed dose and take your next dose at the regular time.
On overdosing, excessive bleeding may occur, which is a medical emergency.
Side Effects
In the administration of Rivaroxaban, it is advised to call for medical attention in case of:
Bruising or bleeding ;
Pain, swelling, new drainage, or excessive bleeding from a wound or where a needle was injected into your skin;
Any bleeding that will not stop;
Headaches, dizziness, weakness, feeling like you might pass out;
Any signs of an allergic reaction, difficulty breathing, swelling of your face, lips, tongue, or throat.
Back pain, muscle weakness in your lower body, or loss of bladder or bowel control.
Precautions & Warnings
Because of the difficulty of managing bleeding, Rivaroxaban should be discontinued at least 24 hours before surgery and restarted as soon as adequate hemostasis is established.
It should be avoided in the case of pregnant and lactating women.
It increases your risk of bleeding. Be careful while shaving, cutting fingernails or toenails, using sharp objects or engaging in contact sports (e.g., football, wrestling).
It may cause dizziness. Avoid driving or activity requiring mental focus until you know how it affects you.
If you have surgery or dental treatment, you may be asked to stop taking Rivaroxaban temporarily.
Notify your doctor if you have any kidney problems.
Heavy intake of alcohol should be avoided.
A useful medicine, Rivaroxaban, should be administered under extreme precautions for positive effects.
Shubham Pharmachem: Committed to Healthcare
Shubham Pharmachem is a merchant export and distribution organisation with core competencies in Active Pharmaceutical Ingredients (API), herbal extracts, nutraceutical and nutricosmetic ingredients, and research-based formulations, and providing its services to other pharmaceutical companies since the 1990s. The company caters to over 70 countries and is committed to providing innovative solutions. High professional standards, combined with diversification and business expansion, have propelled the group turnover by 400% within ten years. Committed to the highest standards of healthcare, Shubham Pharmachem has earned the trust of its national and global clientele through its strong company values of ethics, reliability and responsibility.
For enquiry on other products, visit www.shubham.co.in
Disclaimer:
Shubham Pharmachem's blog posts have been written with the information gathered from approved medical journals and websites online. Our research and technical teams strive to provide relevant information through such articles. We strongly advise readers not to consume or administer medication without their doctor's prior consultation.
References: