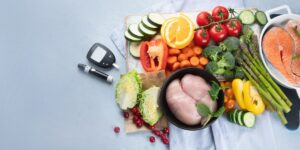 Dapagliflozin treats type 2 diabetes mellitus alone or in conjunction with other medications. It aids in blood sugar regulation, lowers the risk of severe consequences from diabetes, and shields against heart disease.
By preventing glucose absorption in the proximal tubule of the nephron and inducing glycosuria, it helps individuals control their blood sugar levels when combined with diet and exercise.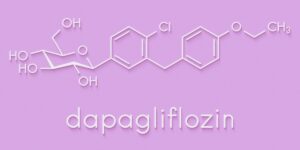 Medical Uses
Dapagliflozin finds significant application in the following cases:
Dapagliflozin is used along with glucose-lowering medications to improve glycaemic control in adults with type 2 diabetes. It also reduces the risk of hospitalisation for heart failure among adults with type 2 diabetes and other cardiovascular risk factors (including high blood pressure and high cholesterol).
It reduces kidney function and kidney failure rate decline in adults with type 2 diabetes.
In addition, dapagliflozin treats adults with heart failure with reduced ejection fraction to reduce the risk of cardiovascular death and heart failure.
It also reduces the risk of kidney function decline, kidney failure, death and hospitalisation in adults at risk of disease progression.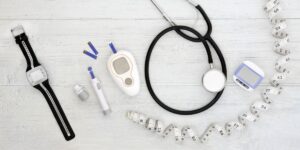 Side Effects
Dapagliflozin is known to have the following side effects:
Dapagliflozin may cause fatigue and rapid weight loss.
Dehydration, severe urinary tract infections, and vaginal yeast infections are possible side effects.
Dehydration may result from the glucose's osmotic diuretic impact, which causes polyuria in people with diabetes. Additionally, increased urine glucose might exacerbate diabetes-related infections, notably thrush and urinary tract infections (candidiasis).
There are worries that it could make diabetic ketoacidosis more likely.
Ketoacidosis symptoms include nausea, vomiting, abdominal pain, exhaustion, and difficulty breathing.
Dosage
For Type 2 Diabetes-To improve glycemic control: The initial dose: is 5 mg orally once a day. It can be increased to 10 mg orally once daily for additional glycemic control if a lower dose has been tolerated.
For Heart Failure with Reduced Ejection, Fraction-10 mg orally once a day.
For Chronic Kidney Disability- 10 mg orally once a day.
Precautions & Warnings
Dapagliflozin is contraindicated for
Severe hypersensitivity reaction to this drug (e.g., anaphylactic reactions or angioedema)
Dialysis
Monitoring
Before beginning treatment, determine your fluid status and check for any signs or symptoms of volume depletion.
Obtain the baseline renal function and periodically check it while receiving treatment.
Keep an eye out for acute kidney damage symptoms.
Even if blood sugar levels are below 250 mg/dL in symptomatic patients, evaluate for ketoacidosis.
Dapagliflozin is a sensitive drug that needs immense patient monitoring while on therapy.
Shubham Pharmachem: Committed to Healthcare
Shubham Pharmachem is a merchant export and distribution organisation with core competencies in Active Pharmaceutical Ingredients (API), herbal extracts, nutraceutical and nutricosmetic ingredients, and research-based formulations, and providing its services to other pharmaceutical companies since the 1990s. The company caters to over 70 countries and is committed to providing innovative solutions.
High professional standards, combined with diversification and business expansion, have propelled the group turnover by 400% within ten years. Committed to the highest standards of healthcare, Shubham Pharmachem has earned the trust of its national and global clientele through its strong company values of ethics, reliability and responsibility.
For enquiry on other products, visit www.shubham.co.in
Disclaimer:
Shubham Pharmachem's blog posts have been written with the information gathered from approved medical journals and websites online. Our research and technical teams strive to provide relevant information through such articles. We strongly advise readers not to consume or administer medication without their doctor's prior consultation.
References:
https://www.drugs.com/dosage/dapagliflozin.html
https://go.drugbank.com/salts/DBSALT001101
https://www.ebi.ac.uk/chebi/searchId.do?chebiId=CHEBI:85079