India enjoys a prominent place in the global pharmaceutical sector. In tune with it being the largest provider of generic medicines globally, the country's pharmaceutical sector is pegged to touch a whopping US $100 billion by 2025 and US $120 billion by 2030 (1). The major drivers for this aggressive evolution include key innovation and R&D, buoyancy of medical tourism, a comprehensive infrastructural development, well-equipped drug-manufacturing facilities as well as a consistently rising domestic demand.
In this ever-changing landscape of healthcare and medicine, Shubham Pharmachem Pvt. Ltd. has carved a niche for itself as one of the leading players in the dynamic pharmaceutical industry. The company has achieved the highest echelons of success vis-à-vis its manufacturing and distribution services across the world for 30 years now. It has established itself as a one-stop shop for pharma outsourcing, currently exporting to over 70 countries and distributing Active Pharmaceutical Ingredients (API) to more than 600 companies worldwide. Constant diversification and expansion of business interests have been the prime contributors for this exponential growth, with a resultant group turnover of $100 million.
On completing of 30 years of its journey, Shubham Pharmachem Pvt. Ltd. is treading on the path of rebranding the company with a newer symbol that elicits the objectives and mission it stands for.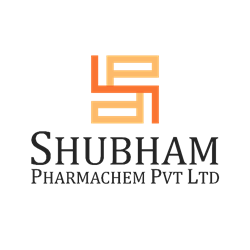 With the idea of creating a relatable logo that would rightly encapsulate the fundamentals and core values of Shubham Pharmachem Pvt. Ltd., the design concept of our new logo descends from the ancient symbol of divinity & spirituality. The 'Swastika' symbolises 'new beginning', good luck & purity. The beige and orange shades provide a perfect balance of colours to highlight health & positivity, while the arms define the flow of progress that the company wishes to attain in the pharmaceutical industry.
A veteran in the trade
Shubham Pharmachem stands by its mission of providing value-added services and solutions to its valued consumers. Armed with all necessary certifications and accreditations, its wide range of products include high-quality API's, herbal extracts, nutraceutical ingredients, refined oils as well as cosmetic ingredients, catering to a wide spectrum of medications for ailments, chronic diseases and conditions. Strict adherence to regulatory policies and in-depth understanding of the untapped market, have been the cornerstones for the steady progress of this dynamic organization.
A global name
The prolific networking and distribution chains are managed through offices in Mumbai, Kolkata, Chennai, Bangalore, Lagos (Nigeria), Accra (Ghana) and Khartoum (Sudan). A host of group companies worldwide has helped include a bevy of more specialized services, in a bid to serve a broader spectrum of clients.
Committed to health and wellness, this brand relies on its exhaustive and extensive research in this crucial domain to seamlessly integrate products and logistics for comprehensive distribution to all its counterparts. Effective coordination, timely implementation and exemplary customer care have been the cornerstones of this success saga.
Future perfect
The future of the healthcare sector, say in 2040, will be a world apart from what it is today! Always with an eye on the future, Shubham Pharmachem aims to utilize the best technical expertise, financial brains, marketing experience and managerial skills at its disposal to come up with more innovative solutions globally. The organization is continuously striving for the development of different business models, more foreign collaborations and exchange of important technological know-how. It is highly dedicated to its strong R&D to develop new API's, in a bid to be abreast of its competitors in the future highlighted by prevention, early detection and personalized therapies.
For more information, visit www.shubham.co.in
References
Stark, A., 2017. India Ranks Third Most Competitive Nation in Global Pharma Index. [online] Process-worldwide.com. Available at: https://www.process-worldwide.com/india-ranks-third-most-competitive-nation-in-global-pharma-index-a-661349/