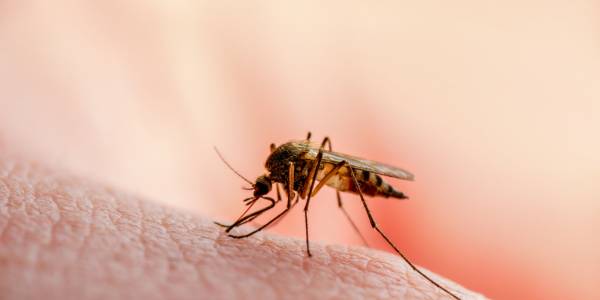 Artesunate (AS) is an effective first-line medication used to treat Malaria in adults as well as pediatric patients. The intravenous form is preferred to quinine for severe form of Malaria. It is often used as part of a combination therapy, such as Artesunate plus Mefloquine.
It can be administered by injection into a vein or muscle, orally, and by rectum. However, it must be borne in mind that Artesunate for Injection does not treat the hypnozoite liver stage forms of Plasmodium and will therefore not prevent relapses of Malaria due to Plasmodium Vivax or Plasmodium Ovale. (1, 4)
Artesunate was developed by Liu Xu in 1977. It is a water-soluble, semi-synthetic derivative of the sesquiterpene lactone Artemisinin. It is on the World Health Organization's list of Essential Medicines. It belongs to the class of medications known as Artemisinins, which are derivatives from "qinghao," or sweet wormwood plant (Artemisia annua). (1)

Side effects
Although Artesunate is typically a well-tolerated medicine, just like any other drug, it can lead to a few common side effects, namely: (2)
Some additional side effects of Artesunate include the following: (2)
Seizures
Hypersensitivity
Neuropsychiatric reactions
Reversible neurologic changes

Precautions 
Since it is a very potent drug, certain precautions must be adhered to before starting a course of treatment with Artesunate. (3)
The concerned doctor must be informed if the patient is allergic to Artesunte or any other medications. This medicine may cause a serious allergic reaction, including anaphylaxis, which can be life-threatening.
All other medications, including herbal products, which a patient is consuming must be shared with the concerned doctor before commencing on any course of Artesunate.
Inform your doctor if you have ever had kidney disease, received dialysis treatments, or suffer from liver disease. Drugs that should be avoided while on Artesunate are the ones that inhibit the liver enzyme CYP2A6.
Blood problems such as Hemolytic Anemia may occur after you receive treatment with this medicine.
When given in the second or third trimesters of pregnancy, no Artesunate-related adverse pregnancy outcomes have been reported. However, there is insufficient evidence regarding the safety of usage in the first trimester of pregnancy.
Discuss with your healthcare professional the use of your medicine with food, alcohol or tobacco.
Any new or worsening symptoms after commencing treatment with Artesunate must be immediately apprised to the doctor.

Shubham Pharmachem: Setting benchmarks
With an illustrious professional journey touching three decades now, Shubham Pharmachem is a leading pharmaceutical company with core competencies in Active Pharmaceutical Ingredients (API), herbal extracts, nutraceutical ingredients as well as cosmetic ingredients. The company's wide range of diverse, quality products cater to newborns to ageing adults. It has thrived on its cutting-edge technology and its team of dedicated, experienced professionals to make a mark in this key sector of the pharmaceutical industry in India. This top brand has always earned the trust of its Indian as well as global clientele by committing to the highest standards of quality, excellence in relationships and strong company ethics built on honesty, fairness and integrity.
For more details, visit www.shubham.co.in
Disclaimer:
Shubham Pharmachem's blog posts have been written with the information gathered from approved medical journals and websites online. Our research and technical team strive to provide relevant information through such articles. We strongly advise readers to not consume or administer any medication without prior consultation with their doctor.
References: